Real Estate & Personal Property Auctions in Maryland
Lynne Zink: Maryland Real Estate Auctioneer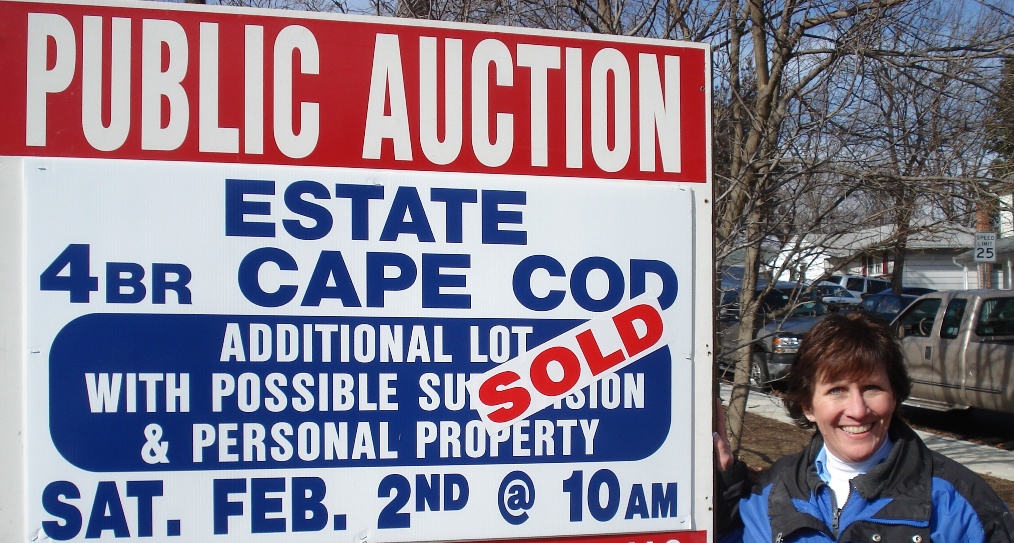 Upcoming Public Real Estate Auctions in Maryland
Stay tuned for upcoming auction announcements!
---
Past Real Estate and Personal Property Auctions in Maryland:
SOLD: $336,600 on April 27, 2018: 11747 Franklinville Road, Upper Falls, MD 21156 and $8,000+ for Personal Property sold in large lots
SOLD: $29,500+ November 11, 2017: Conowingo Road On-Site Tool & Equipment Auction.
SOLD: $184,800 July 2017: 4022 Baker Lane, Nottingham, MD 21236
and $1,500+ For the Personal Property sold in large lots
SOLD: June 27, 2017 – Kingsville Volunteer Fire Company closed its hall and all the catering supplies, kitchen equipment, etc. sold for $16,000+ with an On-Line Only Auction.
SOLD: $192,500 November 2016: 709 Everist Drive, Aberdeen, MD 21001
and $5,000+ For the Personal Property sold in large lots
SOLD: $231,000 October 2016: 4304 Chapel Road, Perry Hall, MD 21128
SOLD: $220,000 June 2016: 1207 Basil Court, Bel Air, MD 21014
SOLD: $187,000 July 2015: 1019 Gunther Lane, Joppa, MD 21085
SOLD: $190,300 January 2015: 2510 Old Joppa Road, Joppa, MD 21085
SOLD: $72,600 August 2014: 2657 West Park Drive, Baltimore, MD 21207
SOLD: $168,000 November 2013: 9403 Thornewood Drive, Parkville, MD 21234
Selling your Real Estate at Public Auction:
An Option, not a Last Resort
Save time, money, and worries when you sell your real estate property by public auction with a Maryland real estate auctioneer. Consider these Top 5 Reasons to sell your property through public auction:
You sell the property on an as-is basis with no inspections, repairs or contingencies.
Protect your interest by setting a minimum bid.
You pay no closing costs.
Large cash down payment ensures the property goes to settlement.
A short marketing period, fast sale & settlement.
Testimonials:
"Lynne, Looking back there is no way we could have had a more successful auction without your expertise, guidance, and professional advice. From our initial meeting with you, through the days leading up to the auction, you always went above and beyond to meet our needs. Although having the auction was very difficult for my grandmother and our family, you made this task much easier to handle. You took the time to answer our questions, accommodate our schedules, and you did everything to make this auction such a success. If we ever know anyone seeking an auctioneer, we highly recommend your services."
Kenny & Michelle Ellis
"Lynne taught me a lot as we went through the process of my downsizing. She explained things and always kept me informed as to what was going to happen and how it would be handled. I started out with no knowledge at all about the auction of a house and the goods that are inside the house. I turned it over to her and I am so glad I did. Right up through closing she kept me informed of everything. What amazed me the most is her attitude. She is a very happy person and it shows and lets everybody else relax. If I could ever recommend a person for a job it would be Lynne Zink."
Nancy Strawderman
"My elderly aunt needed to re-locate to an assisted living facility and Lynne helped to make this a smooth transition. She offered options for selling the real estate and personal property so we could decide what worked best for our situation. She assisted before, during, and after the auction, making what I thought would be a daunting task to something very manageable. She has a great rapport with people and they respond to her: the home brought well over the reserve. I highly recommend Lynne Zink!"
Mark Bowman
"I have never been through anything like this so I had no idea what to look for with the closing on the sale. Now I do and I highly recommend your group and the auction method to anyone I come across with a home for sale. It was an easy and pleasant experience for me and I feel that was because you were great to work with. Thank you."
Melba Smit, PR in an estate sale
We sell Real Estate and Personal Property on site. Call Lynne to learn more about the benefits of this approach.